Enjoy free family festival 'Canal Life Reads: Celebrating Shakespeare with Canal Communities' on Saturday 30 September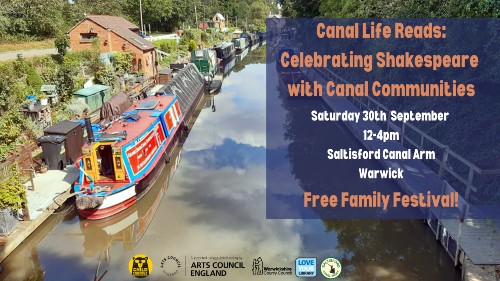 The Saltisford Canal Arm in Warwick is the unique location for a family friendly festival that will celebrate the 400th anniversary of the publication of Shakespeare's First Folio. 
Warwickshire Libraries and Saltisford Canal Trust have teamed up to create the free event that also marks the 40th year since the Saltisford restoration project brought the historic Warwickshire waterway back to life.
On Saturday 30 September between 12- 4pm, visitors can hear Tudor music played on genuine historical instruments, watch actors in historical dress perform scenes from famous plays including Romeo and Juliet and Much Ado About Nothing, and even have a go at some stage combat!
There will be opportunities for children to create free crafts, and one of Warwickshire County Council's mobile libraries will be onsite for visitors to explore, borrow books and share tales of their favourite Shakespearian characters, stories and poetry.
Food and drink will also be available to purchase on the day, and free parking will be available at the Saltisford Canal Trust car park.
The Saltisford Canal Arm sits in the heart of Warwickshire close to Warwick town centre, and is less than 10 miles away from Stratford-upon-Avon where Shakespeare was born. After years of decline, the Saltisford Canal Trust launched an ambitious restoration of the Arm in 1982. Thanks to thousands of volunteer hours, grant funding and community support, the waterway was officially re-opened in 1983. Today the lush, tranquil canal is a cherished community green space and popular visitor attraction.
Cllr Yousef Dahmash, Portfolio Holder for Customer and Transformation, said:
"The Canal Life Reads festival is a wonderful opportunity for families to introduce their children to the world of Shakespeare in a fun and vibrant atmosphere, all whilst enjoying the magnificent, heritage-rich backdrop of the Saltisford Canal Arm with Warwick's local canal communities.

"Warwickshire Libraries prioritise the happiness, safety, and well-being of all children and young people across the county. As a National Portfolio Organisation and a supporter of Child Friendly Warwickshire, we hope that by delivering free and enriching events like this we can equip young people with the key skills needed to lead happy, healthy, and fulfilling lives".
Last year Warwickshire County Council's library service was successful in a bid to become a National Portfolio Organisation (NPO) in Arts Council England's funding plans for 2023-26. NPO status means that Warwickshire Libraries is receiving up to £630,000 in funding from Arts Council England's Investment Programme over the next three years. This includes support for Warwickshire Libraries to delivering cultural and creative programming and outreach activities including this Canal Life Reads event.
Warwickshire Libraries is also a friend of Child Friendly Warwickshire, which is bringing the county together in a collective effort to ensure all children and young people have a voice that is heard, that they are safe, happy and healthy and that they are equipped with the skills to have the best lives they can.
To keep-up to date with Warwickshire Libraries' latest activities, information, and events, you can follow them on Facebook and Twitter, sign-up to the weekly newsletter, or read the Warwickshire Libraries blog.