The Unmorrow Curse by Jasmine Richards receives the Warwickshire Junior Book Award 2023 as voted by primary school students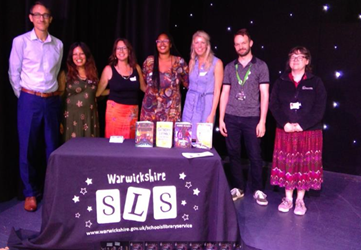 The Unmorrow Curse by Jasmine Richards has won the Warwickshire Junior Book Award 2023 following a vote by Year 5 and 6 pupils in primary schools across the county.
The annual Award is hosted by Warwickshire Schools Libraries Services (WSLS) with the objective of encouraging more students to enjoy reading for pleasure through school and library settings.
The Warwickshire Junior Book Award is a summer term initiative delivered in primary schools during the summer term each year, with an exciting reading list carefully selected by the experienced WSLS team. The shortlist of books chosen for pupils to read this year included:
The Whisperling by Hayley Hoskins
Grandpa Frank's Great Big Bucket List by Jenny Pearson
The Unmorrow Curse by Jasmine Richards
Ajay and the Mumbai Sun by Varsha Shah
To participate, year 5 and 6 pupils were encouraged to read all four books from the shortlist and to vote for their favourite book as the winner, using the criteria that the book must simply be 'a good read'.
The initiative culminated in a final award ceremony on Thursday 29 June at Benn Hall in Rugby, where more than 200 pupils attended to find out which author was pronounced the winner as voted for by their cohort. The event was attended by all four authors who delivered fascinating presentations and took part in a pupil-led Q&A, as well as special guests Carl Lewis from the County Council's Children and Families team, Councillor Yousef Dahmash, and Matthew Barton, Team Leader at Rugby Library.
Cllr Yousef Dahmash, Portfolio Holder for Customer and Transformation, said:
"The Warwickshire Schools Library Service is deeply committed to fostering a love for reading and learning among students, especially as reading for pleasure offers benefits such as enhanced well-being and empathy, and a decrease in symptoms of depression. Reading is also closely linked with academic success and encourages children and young people to forge stronger connections with one another by participating in thought-provoking discussions about the books they have explored.

"Our child-friendly book awards have gained immense popularity among schools as they serve as a remarkable catalyst for sustaining a passion for reading. Our Schools Library Service staff are readily available to support any schools interested in exploring these opportunities to enhance the educational experience of their students."
Warwickshire Schools Library Service organised and hosted the Junior Book Award 2023 and are grateful to have received support from Warwickshire Libraries Reading and Learning team, the shortlisted authors and publishers, and Warwick Books. They are also a friend of Child Friendly Warwickshire, which is bringing the county together in a collective effort to ensure all children and young people have a voice that is heard, that they are safe, happy and healthy and that they are equipped with the skills to have the best lives they can. To find out more, visit the Child Friendly Warwickshire website.
WSLS services are available to support schools and education settings through a wide range of reading and curriculum resources, awards, initiatives, training and more that will engage children and young people and help foster a love or reading. To find out more about the WSLS, visit sls.warwickshire.gov.uk
If your school would like to take part in the Junior Book Award next year, please email WSLS at schoolslibraryservice@warwickshire.gov.uk
To sign-up to the WSLS newsletter, visit sls.warwickshire.gov.uk/subscribe