Safety Made Simple: Warwickshire County Council Supports Child Safety Week to keep children safe and minimise accidents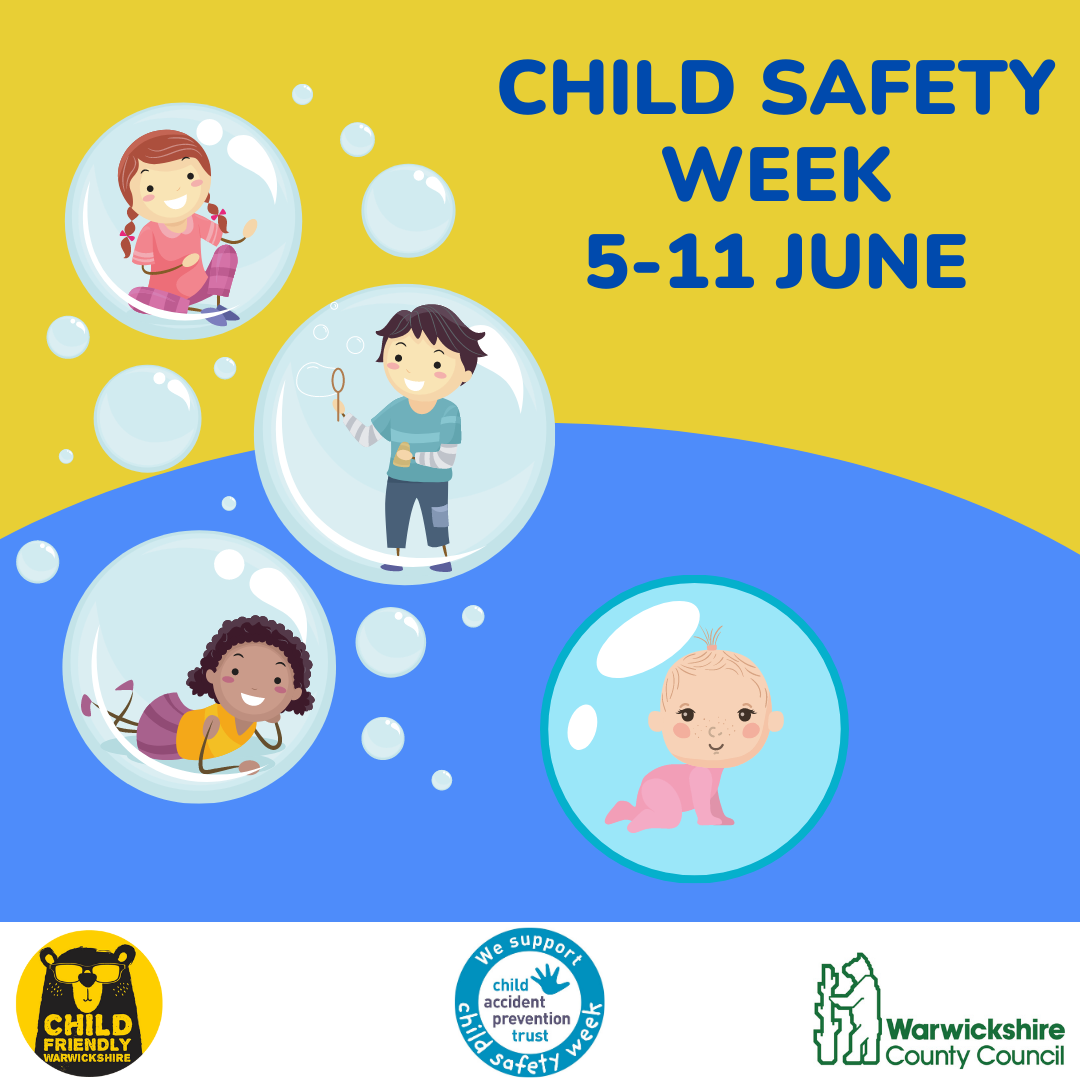 Warwickshire County Council (WCC) is supporting the annual Child Safety Week campaign this week (5 – 11 June), a national awareness campaign organised by the Child Accident Prevention Trust (CAPT).
This year, Child Safety Week has a theme of 'Safety Made Simple" highlighting how simple changes for parents can help prevent the scariest accidents even when they are under pressure.
Warwickshire County Council wants all children to lead safe, healthy and independent lives, so raising awareness around child accident prevention is crucial. Most accidents can be prevented by just taking a few simple steps.
Unintentional injuries, particularly those occurring within the home environment, are a leading cause of preventable death among children under five years old. These incidents also result in severe health issues and disabilities. CAPT identifies five primary areas where 90% of the most serious preventable accidents involving young children arise:
Threats to breathing – choking, strangulation or suffocation
Falls
Poisoning
Burns and scalds
Drowning
By understanding the risks at each stage of a child's development, and implementing necessary safety measures, parents and caregivers can create an environment that helps to avoid or prevent serious accidents and injuries.
With the summer fast approaching and the weather getting warmer, it is common for households to open windows to enjoy fresh air. People are urged to take extra care when opening windows and not to leave small children unattended near them. If possible, for extra peace of mind, window catches, locks or restrictors are recommended.
Tragic accidents caused by parents co-sleeping with their babies have also occurred as babies who cannot roll away are at risk of suffocation. The best way to keep babies safe when they're sleeping is in a cot of their own.
Child Safety Week is also the perfect opportunity to teach families about fire safety. Teaching children about staying safe from fire at an early stage in a fun and interactive way will help them to gain the skills needed to keep themselves fire safe.
Warwickshire Fire and Rescue Service will hold an event at Bermuda Park McDonalds on Saturday 10 June offering free child safety advice as part of Child Safety Week.
Warwickshire County Councillor Sue Markham, Portfolio Holder for Children's Services said:
"We hope that by supporting Child Safety Week, we can reduce the number of preventable child accidents in Warwickshire.

"Knowing that many accidents are avoidable reminds us that with the right support, families can not only help prevent accidents from happening, but teach their children how to keep themselves safe. We encourage parents to stay one step ahead of their developing child, understanding what behaviours and the risks associated with them may come next."
For Child Safety Week tips and learning resources follow Child Friendly Warwickshire on Facebook, Twitter or Instagram.
For more information about Child Safety Week go to www.capt.org.uk
For more information about road safety go to https://www.warwickshire.gov.uk/roadsafetyeducation
For more information about home fire safety got to https://www.warwickshire.gov.uk/firesafety